Welcome
Welcome to Noreasta Labradors. We are a small, family-run hobby breeder located on the coast at the southern tip of Plymouth, Massachusetts.
Our passion for Labradors came naturally -- the sea is in our blood and we wanted a dog that liked to do what we like to do. Tod and I both grew up around boats and the Lab was originally bred to retrieve fishing nets in the icy waters off of Newfoundland...a true fisherman's friend. Whether hunting duck or upland fowl, fishing in the North River or just a leisurely walk down the beach - our dogs are our constant companions and first and foremost, members of our family.
We started breeding in 2004 and only produce one or two litters a year. It is our goal to breed a quality Labrador as close to the AKC standard as possible while striving for excellent health, genetic soundness and that wonderful Labrador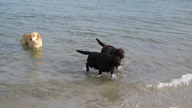 temperment.
Miles of sandy beaches await our Labs each day for hours of fun chasing sea gulls, barking back at the basking harbor seals and retrieving driftwood from the shoreline. Always returning home, happy, wet, sandy and exhausted... we wouldn't have it any other way.